History
On December 30, 2013, Community Neighbor Bank became the new name for two old friends: Camden National Bank and Butler County Bank. And while our name is somewhat new, our legacy extends back more than a century; a legacy of service, solutions and relationship-based banking for generations of customers.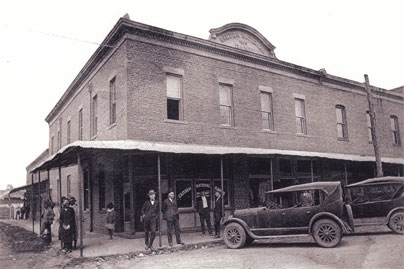 Chartered in May 1906, Camden National Bank was founded to provide Wilcox County with a bank of its own. Largely ignored by bigger-city banks, families and business owners throughout the area came to rely on Camden National Bank for responsive solutions to their unique financial needs. In the 100+ years that have passed since our founding, the banking industry has changed beyond measure. But the principles of service, value and fiscal integrity have not, and they remain the bedrock foundation of Community Neighbor Bank today.

Records show the bank managed assets of $99,672.38 in 1911 and has steadily grown each step of the way. During the Great Depression, Camden National Bank stood resilient to horrific economic conditions as it continued to meet its mission of serving our customers. By 1970, assets exceed $8 million and, in 1990, topped $38 million. Today, we manage millions in assets, continuing our growth and fueling our prosperity.
In 2004, the bank opened its first branch in Greenville, Alabama, and operated it as Butler County Bank. In 2013, the decision was made to blend Camden National Bank and Butler County Bank under one operating name…Community Neighbor Bank. A third location was added in Pine Hill, Alabama in 2017. And in 2021, the fourth office was opened in Grove Hill, Alabama.

Indeed, a century of service has witnessed countless changes. Our founders could not imagine technologies such as Online Banking, 24-hour ATM access or even drive-up banking. But what they did understand was the concept of relationships, trust, honor, and integrity. At Community Neighbor Bank, we will continue to embrace those ideals in every undertaking.